Our Mission
We exist to empower the stewards of customer experience to exceed the modern traveler's expectations through creative innovation and
thought leadership
Our Values
Integrity

We act on the basis of honesty, deliver on promises, and always practice what we preach, even when no one is looking.

Teamwork

We create an environment of lateral contribution that is inclusive and extends beyond our boundaries to our customers

Innovation

We believe in continuous innovation and creative problem solving to produce products and services that exceed the expectations of our customers.

Sustainability

We proactively develop technologies and forge partnerships to deliver sustainable solutions and promote environmental awareness.
Stephen Sinclair, Founder, CEO
Steve is an experienced, high-energy executive, innovator and team builder with significant financial and capital markets knowledge. He also is a successful software developer and entrepreneur. Steve founded BOUNTE and developed the BOUNTE app. Steve helped launched three other technology start-ups, Performance Interactive, LLC, Parking Search.com, and Sintech Software.
Steve has worked in small business and high-growth corporate environments. He honed his technology leadership skills while working as CTO for 15 years at Performance Trust Capital Partners, where he delivered technical and business solutions in a fast-moving, demanding financial services environment. He has deep experience with software architecture and managing high-performance teams. Steve has a bachelor of science degree in finance and investments from Babson College. He has certifications in artificial intelligence from Stanford University and the University of Michigan.
Steve tinkers with all types of technologies such as programming for circuit boards and artificial intelligence.  He created a Bluetooth guitar pedal that works with a computer.  He's currently developing advanced mobile, messaging and cloud technologies.  When not working, Steve likes to travel with his family and take flying lessons.
Ellie Diefenbach, Sales and Marketing Associate
Ellie currently works as a Sales and Marketing Associate at BOUNTE and leads many of the internal marketing and sale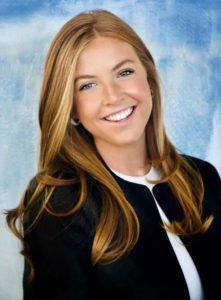 s initiatives. Having joined BOUNTE in 2020 as a Marketing Intern, Ellie led the firm's social media and outreach programs. Ellie's intellectual curiosity and determination led to her role expanding to a full-time sales and marketing role. Ellie frequently engages in the development of marketing material, presenting demos, and networks at industry conferences. Ellie frequently works with the firm's leadership team in the development and planning of multi-year marketing and technology initiatives. Ellie's keen eye for design and video editing capabilities has enabled BOUNTE to produce marketing and learning video-based deliverables.
Prior to joining BOUNTE, Ellie attended SMU where she studied journalism and frequently applied those skills daily in her social media and blog editorial activities. Ellie will be pursuing certifications in sales and marketing while engaging the technology and hospitality community to further her career development.
Ellie currently lives in Chicago, IL. where she often explores many of the city's fascinating culinary hotspots. She enjoys trying many of the city's different cuisines and frequents many of the city's social and cultural events with friends. Ellie's love of travel and exploration has led her to lead backpacking and canoeing trips in remote regions of Wisconsin and Michigan. Ellie is always looking for the next adventure!
Grace Petersen, Marketing Intern
A student at Northwestern University, Grace Petersen works as a double-agent between the fields of Marketing/Data Analytics and Stage Performance.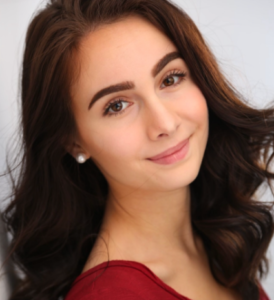 This summer, Grace will be working with BOUNTE™ to devise a multi-platform marketing strategy in order to boost BOUNTE's engagement in the social media sphere and beyond. At Northwestern University, Grace was recently elected the Marketing Manager for THUNK A Cappella (150K+ YouTube Subscribers) and has since garnered over 100K Views across social media platforms and boosted engagement by 20,000%. Next fall, Grace will be working as a Brand Influencer for Samsung Electronics, marketing the newest products and software to Northwestern's campus. She is also a member of the Northwestern "Women in Business" Student Organization.
In the performance world, Grace has worked professionally in New York as a featured ensemble member of Chicago on Broadway for John Kander's 90th Birthday. She was also the recipient of the 2021 New Jersey All-State Choral Soloist Award. This summer, Grace was invited abroad to perform as a soloist at the Arts Theater West End in London. Grace loves to use her creativity and artistic lens to generate unique and modern solutions in any context.